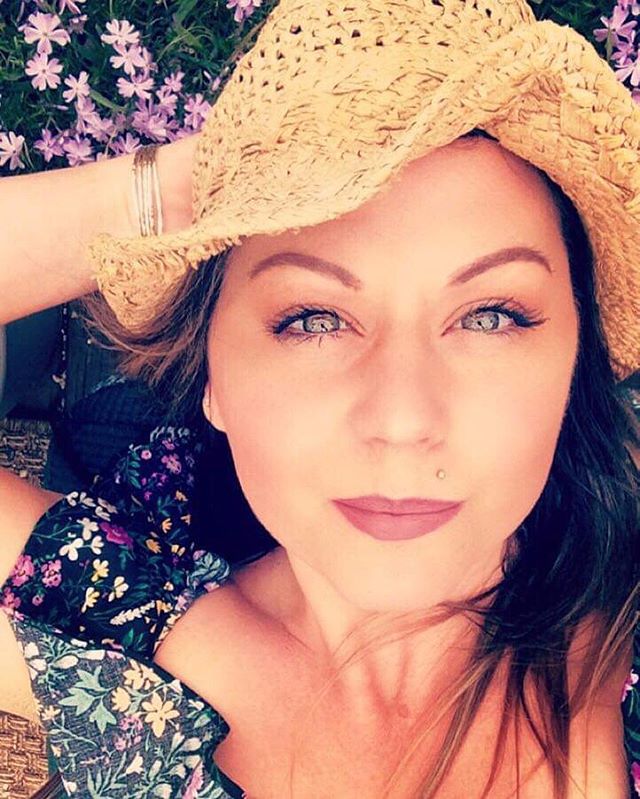 Hey folks!!!! I haven't said a personal hello and thank you for your support in my art. Feeling darn thankful today for my job. Getting paid for creating things always seemed like a fallback plan to my school counselors. Jokes on them. It's all thanks to you guys. All my love 💕 And hey... what about that sunshine?! I'm in Michigan, you can bet it's a game changer! 🌱🌿🌳🌷🌸🌼🌞
I love making dainty looking things out of something as stiff and hard as metal 🥰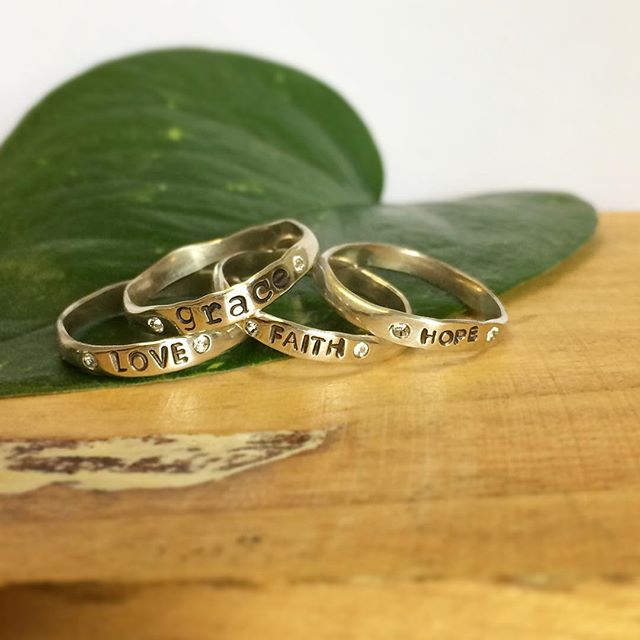 Just a pile of good things in the studio today! My newly inspired line of rings with your "word" on them flanked by tiny inlaid Swarovski crystals. I have some words that are one stamp: Faith, love, joy, or hope. But for instance, this grace ring is hand stamped individually letter by letter. So if you have a word you need on your finger as a daily reminder.... I can do whatever word you'd like.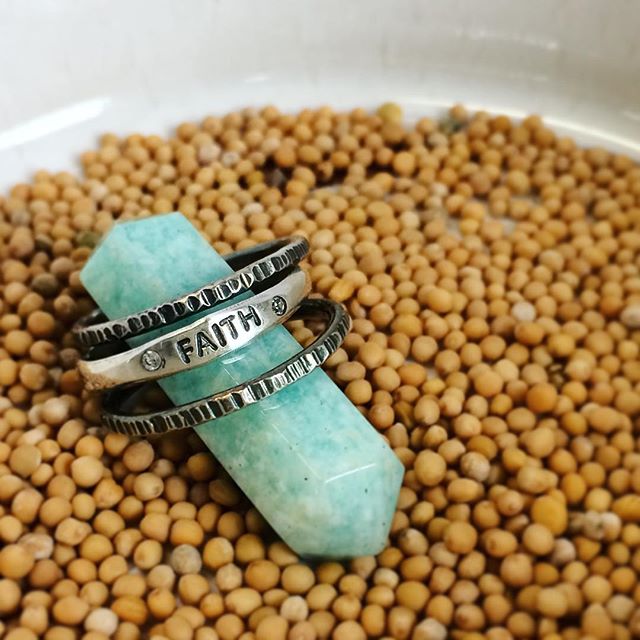 We've heard the Bible verse about what God can do with faith the size of a mustard seed. But have you ever looked up a size of a mustard seed? Well here they are. They're tiny. Insignificant in size. Well, God can do a lot with that seemingly insignificant amount of faith in your and my heart. I haven't taken this ring off since I made it. I designed it so that the crystals embedded in it are the size of a mustard seed... so on days of doubt I look down and am reminded of what God can do with my faith even if I feel it may be diminished to the size of a mustard seed. And I am reminded to stand grounded... steadfast in my faith. Good Friday friends. ♥️
Psssttttt..... for a couple of days ONLY the Mothers Day Section in my shop is 25% off!!! 🤩🥰❣️😍 ship now at www.sproutsandroots.net
Did you know the Old Rugged Cross ring in my shop is one of my top sellers? Perfect for Easter week. ✝️💖
Some new stones I could NOT resist! Kyanite & amazonite. What is your favorite stone?! 😍 I wanna know! Comment below!
Custom Belt Buckle for a scientist about to take a venture next year to Antarctica 🥰 etched waves in bronze, sterling silver Antarctica showing the ice shelf and land lines. #riojeweler @riogrande